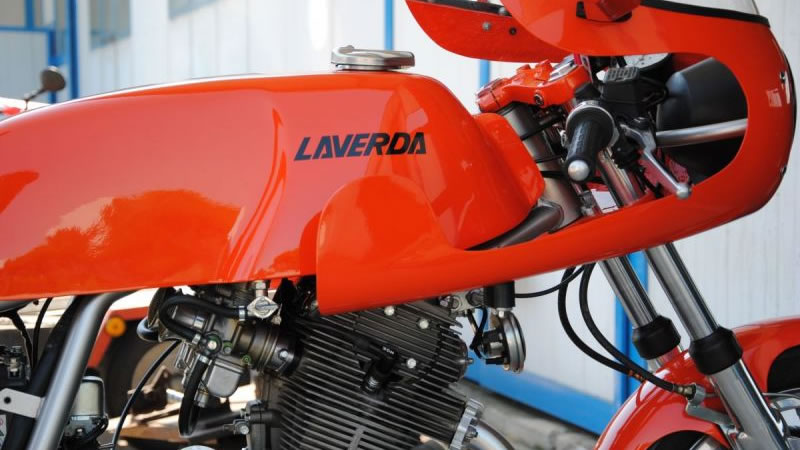 Laverda 750 SFC Custom Replica based on a 1974 Laverda 750 SF.
One of Moto Officina's specialties is definitely the built of custom replicas of this rare (only 549 produced between 1971 and 1977) icon of the Italian motorcycle industry.
Starting from a Laverda 750 SF as donor bike it takes approximatively 6 month to finish our custom made SFC Replica. From the faithful replica to the custom made SFC, the donor bike will be completely disassembled; every single part will be checked and changed or modified accordingly.
For this particular bike, the frame has of course been modified to SFC specifications,a stiffer custom swing arm and a rear disk brake as well as special hubs have been mounted to the Borrani wire wheels. It's also equipped with Moto Officina custom foot rests.
Regarding the engine, this one is equipped with a Laverda 2 in 2 exhaust line (the owner wanted it as silenced as possible) but we rather recommend mounting our special 1mm stainless steel line and exhaust. For a street use we will also recommend to modify the timing of the woodruff key cut of the C5 camshaft by moving it of 6 degrees for a better torque range instead of the typical C5 timing that favors high revs. Engine displacement can also vary from the original 744 cc to more than 900 cc. Of course, heads will be completely reworked, new valves and springs fitted, etc.
---
---
Laverda 750 SFC Replica by Moto Officina