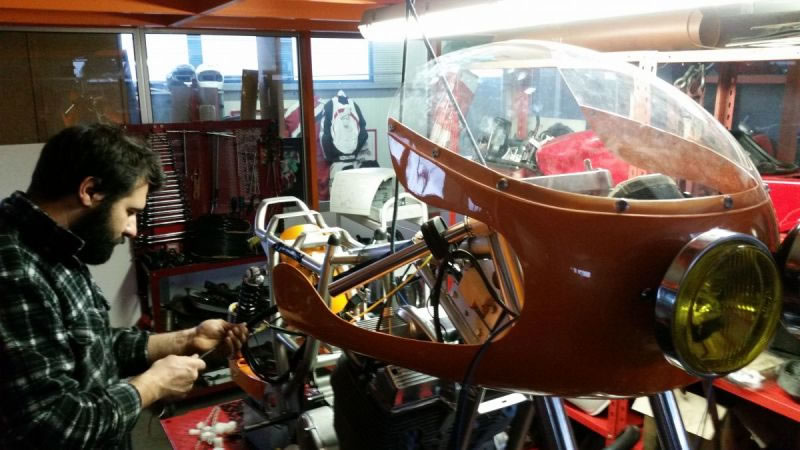 The starting point for the Laverda "Diecimila" (Ten thousand) project was a 1980 Laverda 180° triple...
... which was stored in a garage for nearly 20 years when we found it. The plan was to build a street legal Endurance style machine.
The first Laverda triples entered into production in July 1972. The first models were powered by a 180° 3 cylinders 980 cc engine. The same year, even before production start, the factory engaged a nearly serial Laverda triple at the Austrian Steiemark trophy and won the race. A part from the successes in competition, the big triple evolved from year to year and in 1978 also a 1200 model with a displacement of 1,116 cc similar to the one used for our project had been introduced. In 1982, the exclusive 180° engine is replace by a smoother one with a 120° crankshaft timing that had been produced until 1989 (text continues after pictures).
For our project we started, as usual, by completely disassembling the bike, cleaning, checking and measuring all the parts. The frame has been modified and reinforced. Laverda triple frames are traditionally reinforced on the pivot axle of the swing arm as well as the steering head. The original swing arm has also been replaced by a more effective Moto Officina custom swing arm. All the axles have also been changed with larger ones. The original Marzocchi shocks have been accurately rebuilt and adjusted. The fork has also been modified and equipped among others with Moto Officina custom triple clamps, fork brace and axle. For the classic touche, Borrani wheels replace the alloy 5 spokes wheels.
Of course, the engine has also been completely modified. Without going into details, the engine is modied to reach 10.000 rpm and is, amon others, fitted with our special pistons and our custom camshafts with variabel timing. An accurate work on the cylinder heads as well as the replacement of the original Dellorto carbs by Mikuni RS36 ones and the Moto Officina 3 into 1 performance full exhaust line will also participate to the dramatic improvement of performance on the Laverda triple. A Moto Officina hydraulic clutch with a reinforced clutch and modified classic Brembo brakes will also help the rider to master the beast.
---
---
First start and rev up at 10.000 rpm
---
Crankshaft centered and balanced